Susan Semmelmann armed with expertise and crystal-clear vision
Susan Semmelmann launched her brand Susan Semmelmann Interiors, located at 4374 W. Vickery Blvd, Fort Worth, TX 76107, in March 2019, having over 23 years of experience in design and construction. Armed with expertise and a crystal-clear vision, she started her new venture with no clients and a handful of employees willing to join her journey. Her design firm has grown leaps and bounds in three and a half short years, with over 70 projects currently in the works.
The learning curve required to start this new venture has been steep but exciting and worth every minute. "The Spirit of Living is in the Giving" is the foundation of the business. Susan and her team live and work to give back to those around them. It's in the DNA of the team. Their work is always a passion project that conveys beautifully to the clients when they see how invested they are in making dreams a reality.
Diversifying Products and making a difference
Susan believes they have a unique way of thinking. As a design firm, they exist to make a positive impact, to care about their customers, to provide excellent service and results, and to share the successes achieved to help others. The heart of giving is the backbone of what they do. Susan Semmelmann Interiors is a turn-key design firm that focuses on delivering excellence. They walk clients from construction through completion—start to finish.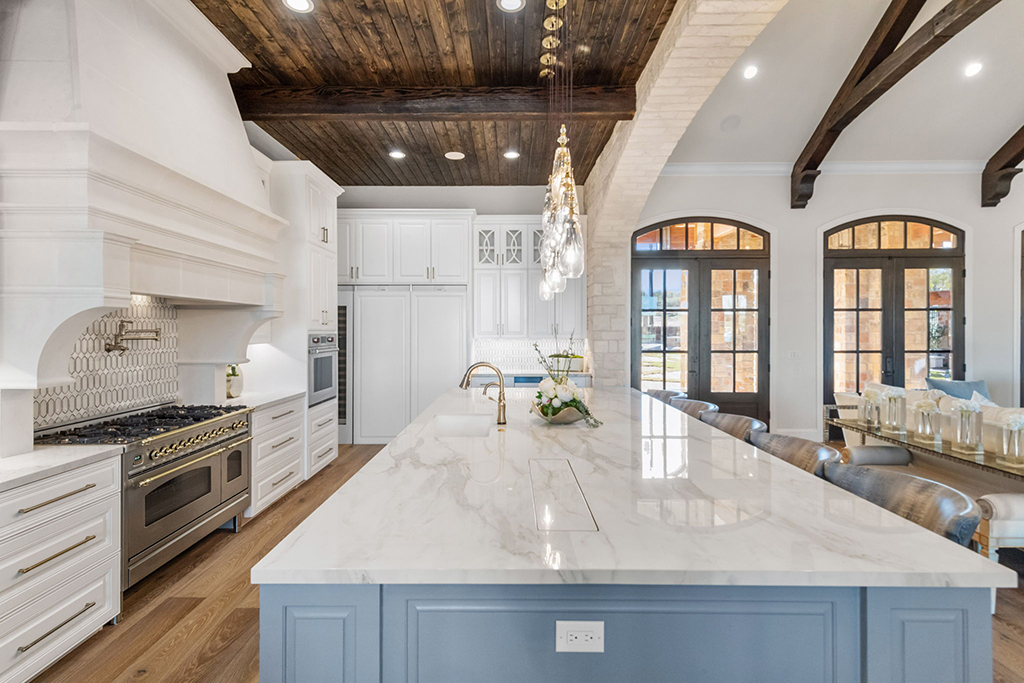 In her words, "We offer hundreds of high-quality sales lines of art, décor, and furnishings as well as various levels of customization and design options. With supply chain issues in mind, we focus on diversifying product access and availability to meet customer needs, including opening our manufacturing facility! We also design and create our Susan Semmelmann Interiors custom line of bedding and drapery."
Joining Digital revolution
While helping clients realize their home design dreams, the team at Susan Semmelmann Interiors has been working on a dream of their own! They have been building and developing an all-encompassing design resource to share with clients and designers alike. The 10,000-square-foot building on Vickery Blvd houses corporate offices and the Fort Worth Design Studio. The studio will open soon to the public, along with an online store and custom manufacturing options. The concept is to make these resources available to the public, giving other designers more opportunities to offer their customers.
She says, "I am passionate about sharing what I have to help others… help others! By offering these options, including online ordering and virtual design consultation, we can reach our client base beyond our physical location – our global availability is limitless!"
Challenges as an Entrepreneur and Facing them
As the founder of Susan Semmelmann Interiors, Susan wears many hats. She is involved in creating a vision for the direction of continued growth and development. On the one hand, she has a bird's-eye view of the company's logistics. She prefers to be on the ground floor with the customers and teams. She decided not to have a dedicated office so she can move from project to project, making sure clients are happy, and their orders are processed smoothly.
"I love what I do, and it gives me great joy to know that while helping our customers make their home dreams come true, we are also supporting community organizations that make other people's dreams come true. The journey continues to be fun and rewarding."
She loves every moment of the process from the initial launch to the present day. Susan considers it a journey worth taking and challenges us to live our lives with faith as the foundation. She looked at the big picture and knew that taking one step toward pursuing this dream would greatly benefit many in the process. With such rapid growth, there have certainly been challenges in scaling the business properly, but Susan sees challenges as opportunities for growth. She firmly believes that quality of life is in how you see it. It's about perspective. Difficulties are guaranteed, and character is revealed when difficulties come. Maintaining integrity, no matter what happens, is so important. Protecting what one knows to be a precious gift always pays off in the end.
Milestones achieved
The work of the team speaks for itself through awards acknowledging their professional and philanthropic pursuits, including Philanthropist of the Year, Best of Design, Best of Houzz, Best Luxury Interior Design Firm in Texas, Most Influential People in Fort Worth, Entrepreneur of Excellence Award, Most Innovative Interior Design Firm, and 10 Most Powerful Leaders Revamping the Future. They have recently won 7 awards at the Fort Worth Magazine ASIDs Awards, and have the honor of being a five-time Fort Worth Dream Home designer.
Susan explains that business has grown rapidly over the past three and a half years, which is wonderful and exhilarating, but also a little like drinking from a fire hydrant! She contends that the company's consistent growth revolves around the fact that they truly love to wake up every morning and do what they do.Susan and her team spend their days catching each client's vision and excitement for their home and bringing it to reality. "Our approach is heart-centered and focused on excellence, down to the very smallest detail," said Susan.
They begin appointments without preconceived notions for any client; they hear their heart and desires for their homes before starting to put structure around their plans. Another aspect of the culture at Susan Semmelmann Interiors that points to our success revolves around a "fingers in the dirt" mentality; everyone is fully prepared to pitch in for any job at any time. This is not a forced mindset, but a natural reaction that comes from maintaining a supportive workplace. The goal is to be outward-facing to our customers and community. Growth happens when you focus on your purpose. If we take care of the main thing, the main thing will take care of itself.
Advice for aspiring entrepreneurs
"While I want to be a role model by inspiring women to believe in themselves and pursue their passions, I want to be that person for anyone and everyone, man or woman."
She wants people to look at her journey and see what it takes to roll up their sleeves and do the work to breathe life into a dream – it's so worth it! Her story is relatable to anyone who knows there is a passion and a calling in their life but needs a push to start down the path to pursue it. She also explains that one doesn't know everything before one starts a business; she simply started, and everything has been revealed along the way at the right time. She puts one foot in front of the other every day and learns as she goes.
Must Read: –