Kanika Design: Transforming Interior Design Spaces
"The Power of Interior Design is transforming the way we live and connect with our surroundings." – Kanika
When you think of your happy place, you would think of aesthetic curtains, peach cushions or for some it would be a place close to nature that gives the feeling of home. Bringing these thoughts to reality Kanika uses the power of interior design to magically transform the spaces. Let us take you on Kanika's interior design journey through this article.
Kanika's Journey
Kanika studied at San Francisco State University and earned her bachelor's degree in psychology. Later, she joined Cañada College and earned a Redesign and Home Staging Certification, as well as an Associate Degree in Business Administration.
Kanika is a passionate interior designer. She has lived most of her life in the Bay Area but has a close relationship with India, where she was born. Her interest in interior design grew during her time living in her parents' home, where she would experiment with home décor, such as rearranging furniture and reorganizing the space. Through these experiences, she discovered her passion and natural talent for interior design and decided to pursue it as her career.
We interviewed Kanika about her work, her process of designing a space, and what influences her designs every day.
Can you share a memorable project that reflects your design philosophy and approach?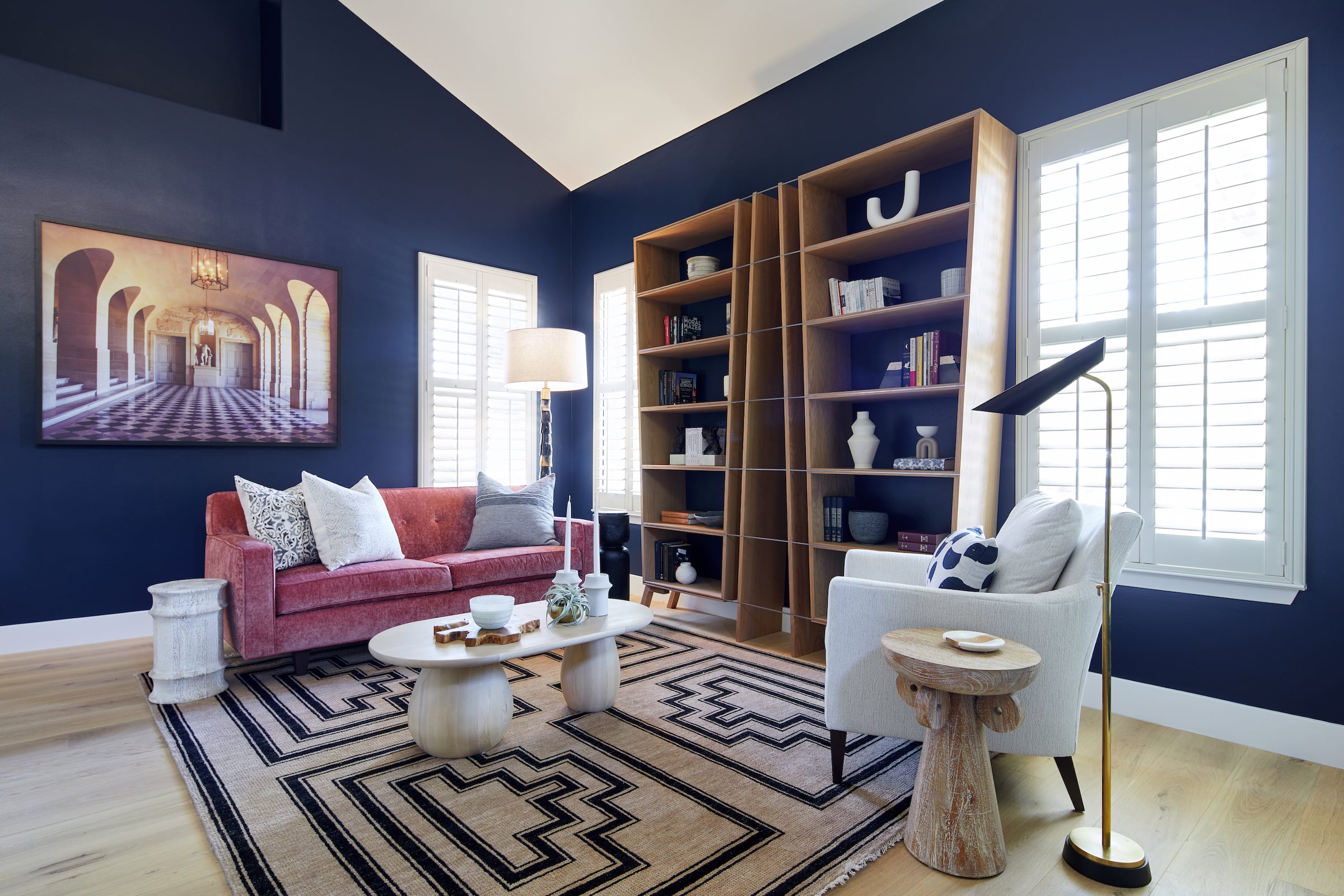 For Kanika all her projects are special. One project that stands out is the living space remodel. She was inspired to create a warm and inviting space with a unique room layout. Kanika loves using bold colors and adding natural elements like wood to create a peaceful atmosphere that brings a sense of calmness to the room. This project offered the ideal opportunity to design a living space for guests and a cozy reading room for our clients, where they can lose themselves in books for hours.
Tell us about a project where you successfully integrated contrasting elements to create a harmonious space.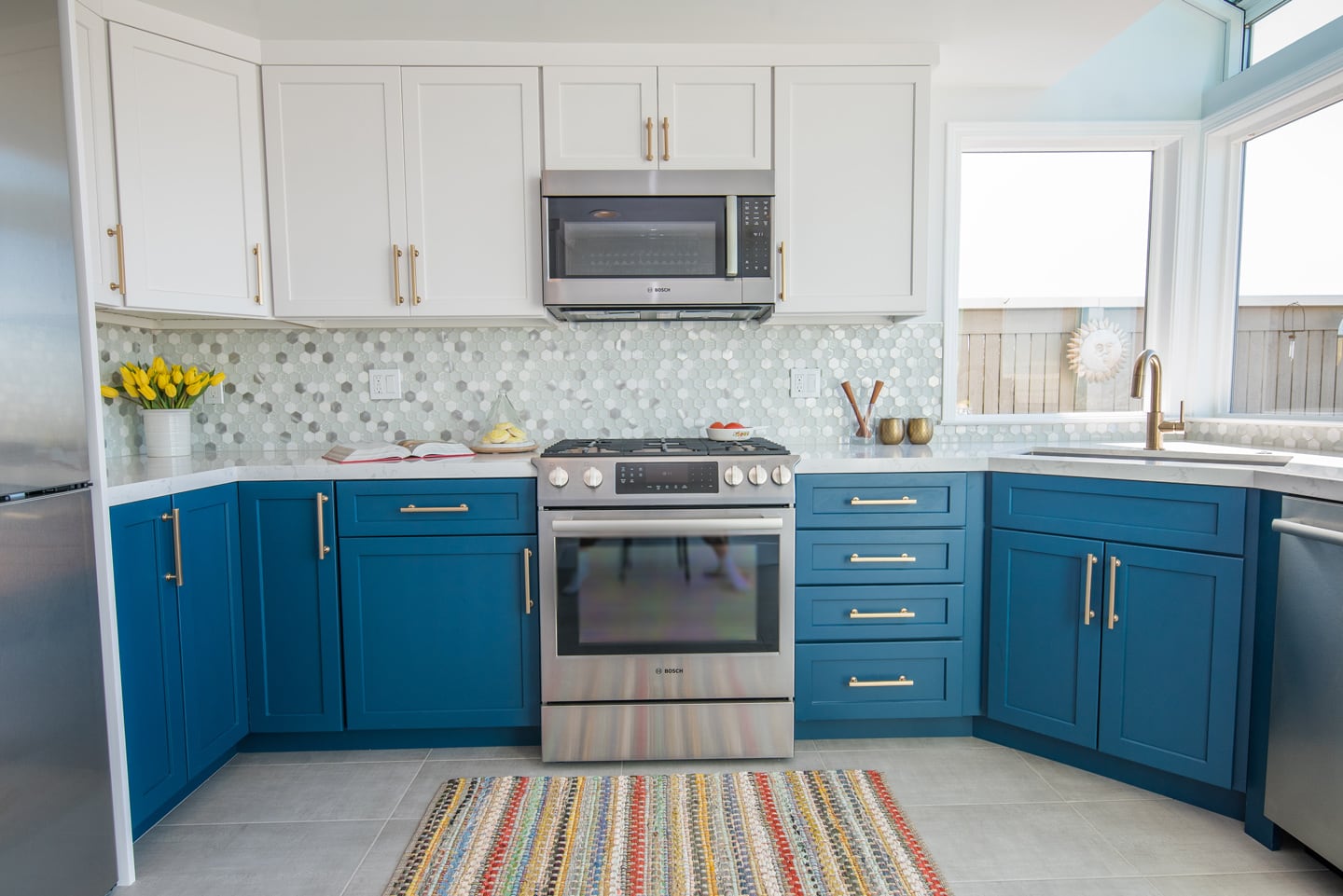 In this Kitchen and Dining remodel project, the use of orange and green, which are contrasting colors, adds depth and visual interest to the design. Orange was chosen to signify warmth, while green represents a cool color. The combination of these colors creates a dynamic and balanced aesthetic. The style of the project is a blend of modern and mid-century, which further enhances the contrasting elements. Notably, the butcher block used as a kitchen countertop adds an inviting and tactile element to the space.
How has traveling influenced your designs?
Kanika began traveling in 2008 and haven't stopped since. Her approach has always been "less is more," and the simplicity of Scandinavian design has greatly influenced her design process. Through traveling to various parts of the world, she has been inspired by the use of contrasting colors and eclectic elements. Kanika agrees that traveling to various places has allowed her to witness colors in different settings and environments, challenging her previous assumptions about color combinations.
How do you balance function and aesthetics in interior design projects?
Kanika shares that when someone hires her as a designer, they are looking for a space that is aesthetically pleasing and, at the same time, functional for everyday living. It is important that people feel comfortable in the space, especially when they have guests. Therefore, her emphasis is on creating designs that strike a balance between beauty and functionality, ensuring that the spaces she creates are not only visually appealing but also conducive to comfortable and livable experiences.
How do you create beautiful results when the budget is a concern?
She always advises clients to begin with a budget that they do not want to exceed and then work backwards. When planning the execution of any project, the team also considers the possibility of unexpected challenges. Therefore, having a budget sheet that includes all expenses is always very helpful.
What is your design process?
Kanika Design begins every project by conducting design exercises to understand the client's style and functional needs for each space. Following this, they start research to plan the design of the space, taking into consideration the client's requirements and available budget. They present designs in 3D, which helps clients visualize the final result. Their primary focus when working with clients is to ensure that the space is finished according to the original design. To achieve this, they offer a full-service option where the team handles the entire project execution, including construction.
Any tips for small-budget makeovers
Kanika recommends refreshing the look of any room seasonally by changing out pillows, rugs, and curtains, and even swapping decor items such as vases, candle holders, and table centerpieces. Additionally, changing the paint color for a room is a great DIY option that can make a big impact on any space. It allows you to completely redefine the mood and style of the room, whether you opt for a bold and vibrant color or a soothing and calming shade.
Finally, what trends do you see shaping the future of interior design?
Sustainability is a significant trend in interior design that deserves attention. It has a profound impact on our planet, particularly on future generations and how we will design spaces.
Kanika also shared these three tips for anyone looking to improve their living spaces
1. Embrace bold colors: Bring vibrant and visually interesting elements into your living space. Use contrasting colors to add depth and balance to your design, and don't be afraid to experiment with color combinations that challenge traditional norms.
2. Mix design styles: Blend different design styles to create a harmonious and eclectic space. Combine elements from modern and mid-century styles, for example, to add visual interest and create a unique aesthetic. Mixing contrasting elements can result in a dynamic and balanced design.
3. Design for your style and function: Lastly, the most crucial aspect of interior design is to create a space that reflects your personal style and fulfills your functional needs.
About Kanika Design
Founded in 2008, Kanika Design is a full-service interior design firm that specializes in creating stunning homes and offices from concept to completion. Through the years, Kanika Design has earned a reputation for its daring and distinctive designs and unwavering commitment to delivering exceptional service to its clients. As a top-rated interior design firm in the vibrant San Francisco Bay Area, Kanika Design prioritizes design, personalization, functionality, and attention to detail to create wow spaces that are a true reflection of their clients.
Must Read:-